Dealing With Tough Stuff
Tuesday, August 18 -
Tuesday, September 22, 2020
4:30 PM - 4:30 PM
Collingswood
This event has already occurred!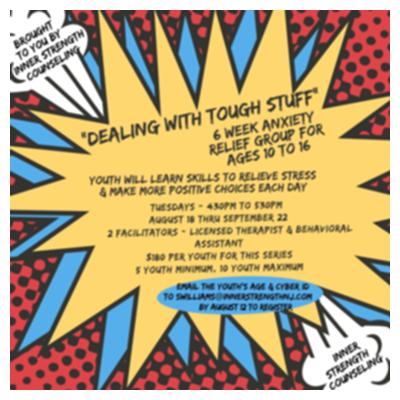 We all know kids are dealing with lots of transitions on top of an already overwhelming mountain of worries. Dealing With Tough Stuff, our online 6 week psychoeducational group, will create a path for relief to help kids aged 10 to 16 years old cope as summer comes to an end and the new school year begins. The first one hour session is Tuesday, August 18th and the last session is Tuesday, September 22nd.
In this series, kids will learn how to...
Identify where stress comes from
Recognize what stress feels like
Use techniques to lessen the negative impact of their with anxiety
Feel more confident in the face of their worries
Make more positive choices
Not sure about another online activity? We definitely get that which is why we've created this group with a licensed therapist as its facilitator and a behavioral assistant as its co-facilitator. We want everyone there to get what they need and don't want anyone to get lost in the group. This series will be interactive and have private and group chat enabled so that the facilitators will be able to check in with and engage youth during each session in a variety of ways.
When: Every Tuesday, August 18th thru September 22nd
Where: Zoom Virtual Room
Cost Per Youth: $180 for 6 week series
This group requires a minimum of 5 youth and maximum of 10. If we have less than 5 youth registered, we're not able to move forward with the series.
To Register: Contact [email protected]
Registration Deadline: Wednesday, August 12th
| | |
| --- | --- |
| Age Groups | |
| Health Services | Behavioral / Mental Health |
| Payment Options | |
Last Updated: 08/04/20