Brilliant & Resilient: Teen Girls Group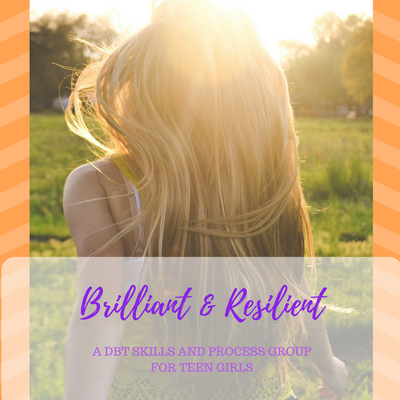 If your teen is having difficulty handling intense moods and feelings of depression or anxiety, she could benefit from finding Success and Empowerment through Self-Awareness, Real-Life Coping Strategies, and Interpersonal Insight.
CREATING RESILIENT YOUNG ADULTS
Brilliant & Resilient is an ongoing group that focuses on building esteem and emotional resilience led by Sarah Temel, M.S.Ed, LAC. Through meaningful interactions with peers and with the guidance of a passionate professional, group members can learn to communicate more effectively, regulate their emotional experiences, and nurture self-love and understanding. These skills lead to better decision making, increased confidence, and ultimately: Resilient Young Adults!
LEARN MORE
If you would like to learn more about Brilliant & Resilient to see if it is a good fit for your teen, please Click Here to fill out an interest form and the group facilitator will be in touch!
Age Groups
Gender-Specific
Health Services

Behavioral / Mental Health

Crisis / Safety
Last Updated: 04/10/20