Camden Enrollment
(856) 536-3999
Camden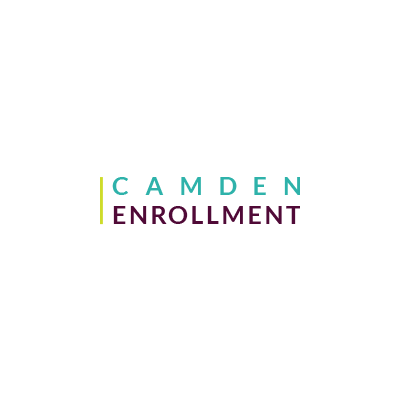 Camden Enrollment is a family-friendly application that makes it easier to apply to public schools in Camden, NJ. Rather than having to submit multiple applications by different deadlines, families can use the Camden Enrollment application to apply to District schools outside of their neighborhood, renaissance schools, and public charter schools.
To ensure a fair process that treats all families equally, participating schools will only accept the Camden Enrollment application, available on this site, at public schools across the city or at the central Enrollment Center located at 1865 Harrison Ave (Kroc Center).
Why did we need an improved enrollment process in Camden?
In the past, families had to fill out separate applications for each school they wanted their child to attend. Schools had different deadlines and separate lotteries for enrollment, stretching from as early as October to as late as July.
Camden Enrollment creates a one-stop shop for learning about and applying to Camden public schools. It simplifies the process and makes admissions fairer. Families are matched to the school they prefer the most that has available space, helping ensure that more students will have a seat at a school they want to attend.
Who needs to fill out an application?
Any student entering a transition grade (Pre-k, Kindergarten or 9th grade) or who wants to attend a different school next year should apply.
Students who want to continue at their current school next year do not need to apply.
If your child is attending Pre-K in the same building as an elementary school, you may need to apply to attend kindergarten. Call (856)536-3999 for help.
Students who wish to attend their neighborhood district school have a guaranteed seat, but are encouraged to submit an application to let the school know they are planning to attend. Click here to find your neighborhood District school.
Camden residents who will be 3 or 4 years old by Oct. 1 are eligible to attend full-day pre-K programs at no cost. You can now use the Camden Enrollment application to enroll. Learn more about how to enroll in pre-K in Camden.
Eligibility
Who needs to fill out an application? Any student entering a transition grade (Pre-k, Kindergarten or 9th grade) or who wants to attend a different school next year should apply. Students who want to continue at their current school next year do not need to apply. If your child is attending Pre-K in the same building as an elementary school, you may need to apply to attend kindergarten. Call (856)536-3999 for help. Students who wish to attend their neighborhood district school have a guaranteed seat, but are encouraged to submit an application to let the school know they are planning to attend. Camden residents who will be 3 or 4 years old by Oct. 1 are eligible to attend full-day pre-K programs at no cost. You can now use the Camden Enrollment application to enroll.
Age Groups
Community Services

Community

Education

Family & Support Services

Seasonal Programs

Payment Options
Language Spoken
Last Updated: 04/10/20