Learn more about Three Little Birds Pregnancy & Infant Loss Support - Camden Co Non-profit!
Thursday, January 26, 2023
6:00 PM - 6:00 PM
Blackwood
This event has already occurred!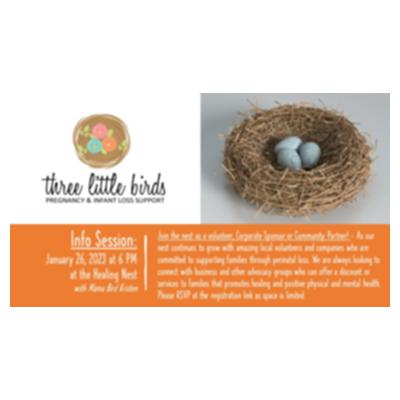 Join the nest as a volunteer, Corporate Sponsor or Community Partner! - As our nest continues to grow with amazing local volunteers and companies who are committed to supporting families through perinatal loss. We are always looking to connect with business and other advocacy groups who can offer a discount or services to families that promotes healing and positive physical and mental health. This event is also for loss parents seeking to learn more about our services/programs and how to start a legacy project in their baby's memory.
Age Groups
Health Services

Behavioral / Mental Health

Intellectual and Developmental Needs

Payment Options
Last Updated: 01/06/23