IDEA Center for the Arts
(856) 577-8337
Mt. Laurel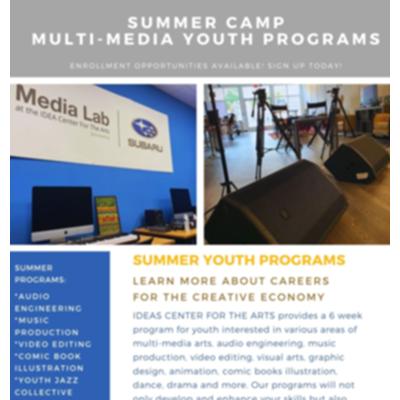 We are excited to launch our 2021 Summer Program at IDEA!
IDEA Summer Media Arts program funded by Subaru of America Foundation and the Camden County Cultural Heritage Commission, in association with Rutgers Department of Childhood Studies in Camden, NJ. The 6 week program brings together students from the Camden area, who will learn or sharpen their skills together with local teaching artists in Graphic Design, Music Production, Audio Engineering, Visual Arts, Dance, Drama/Acting and Video editing/Documentary Film making. The program runs from July 6th to August 12th at 217 Market Street Camden, NJ 08102
The program allows students to work in groups towards a final project that will be presented at the end of the program. In its 25+ year history, IDEA has always provided a venue for youth to find their voice through art, and exercise their creative spirit. This summer's media program seeks to continue that rich history. Together we can keep our youth educated, active and involved!
Sign up today registration slots available! Internships available for college students
Programs available for youth ages 9 to 12 and 13 to 19. For more information visit our website: https://ideacfta.org/summer-programs Program application attached:
Eligibility
Contact us for more info
Age Groups
Community Services

Arts & Recreation

Community

Education

Family & Support Services

Seasonal Programs

Payment Options
Last Updated: 06/22/21