One on One Navigation Assistance
(609) 878-2007
Hammonton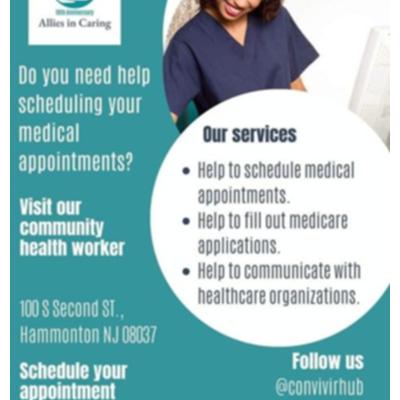 Do you need help connecting with health care professionals within your reach? Do you want to know what social services you are entitled to?
Come to our Con-Vivir Wellness Center, 100 S. Second St. Hammonton, NJ, on Tuesdays and Thursdays from 10 a. m. to 3 p. m. and Saturdays from 12 p. m. to 4 p. m.
Our Health Advocate will help you make appointments, submit paperwork, fill out forms, and find the health and social service providers you need.
You can walk in on Saturdays. To make an appointment on Tuesdays or Thursdays, please contact us at [email protected] (609) 351-1188.
Age Groups

Children
Adolescents
Adults
Seniors

Community Services

Basic Needs / Assistance

Community

Education

Employment / Training

Legal / Advocacy

Seasonal Programs

Treatment Services

In-Community Services

Language Spoken

American Sign Language (ASL)
Spanish
Last Updated: 09/14/23